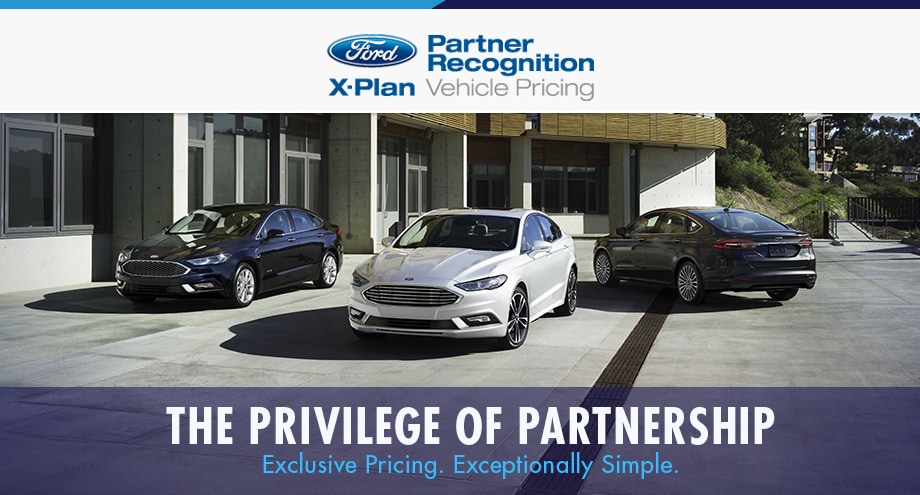 Benefit from the Ford X-Plan Partner Program near South Bend, IN
The Ford X-Plan, also known as the Partner Recognition Program, is available to employees, spouses, retirees, and other members of select organizations that have a unique relationship with the Ford Motor Company and Lincoln Motor Company. If eligible, you can save substantially on a wide selection of Ford vehicles at our dealership near South Bend, IN. Whether you plan to purchase or lease, you can take advantage of the special pricing available in the X-Plan.
What is the Ford X-Plan?
Members of the Ford X-Plan get access to exclusive reduced pricing on many Ford cars, trucks, vans and SUVs. A personalized PIN identifies you as an X-Plan member, giving you access to all of the great deals that are available. If you are unsure if your company qualifies, you can check with your HR coordinator or contact us at Campbell Ford Lincoln near South Bend, IN. This plan is exceptionally easy to use, risk-free and allows you or a member of your household to purchase up to two vehicles per calendar year!

How do I participate?
If you are a member of one of the many companies that are eligible for the Partner Recognition Program, participation is very easy!
Obtain your organization's Partner Code. This can be found by seeing your company's Key Contact.
Login with your partner code at fordpartner.com.
Enter your personal information, including your name, address and the last four digits of your social security number. This will generate your PIN number to be used later.
Come visit us at Campbell Ford Lincoln and let us know that you are a Ford X-Plan Partner Recognition member. You will need the last four digits of your social security number and your PIN.
Provide proof of your employment to verify X-Plan membership. This can be done with a paystub, I.D. card, W-2 form or healthcare card. If a household member is receiving the deal, we just need to see their driver's license to confirm residence.
Pick out an X-Plan-eligible vehicle and request a copy of the invoice to confirm X-Plan pricing.
What are my exclusive benefits?
Signing up for the Ford-X Plan will help you save by giving you access to some of the best prices in the automotive industry. As a Ford dealership, we value all of our partners and want to make sure you get the best service and price on all of the excellent vehicles that we have in stock. Our exclusive pricing is established before you even visit our dealership, so you don't have to worry about negotiating: you are guaranteed one great low price. The process is exceptionally simple, and can provide you with great value. Not only that, but to best thank valued members like you, these exclusive savings can be combined with many of our other publicly offered programs!
X-Plan pricing can be applied to current model year Ford and Lincoln vehicles as well as prior model year vehicles. Vehicles may be ordered from production or selected from the inventory at the dealership on a case-by-case basis. There are a small number of vehicles that are ineligible for the Ford X-Plan Partner program, and are listed at www.fordpartner.com.
Are you eligible for the Ford X-Plan? Come visit us at Campbell Ford Lincoln near South Bend, IN, and start saving big today!